December 14, 2004

When 1 track closes, another opens, train club discovers

By Sherry Lucas
slucas@clarionledger.com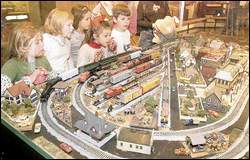 Joe Ellis/The Clarion-Ledger

Hernando Elementary School students (from left) Ashley Killebrew, 8, Madison York, 7, Annie Whitfield, 8, Ali Chatham, 7, and Ashley's brother, Bryan Killebrew, 9, stop to marvel at a model train exhibit at the Mississippi Agriculture and Forestry Museum in Jackson Thursday.





Details

Mississippi Agriculture and Forestry Museum, 1150 Lakeland Drive in Jackson, is open 9 a.m.-5 p.m. Monday-Saturday. Admission is $4 adults, $3 seniors, $2 ages 6-18, 50 cents ages 5 and under.

Call: (601) 713-3365.
Other exhibits:

At the Old Capitol Museum of Mississippi History, model trains — including customized versions of the Panama Limited and the Rebel — travel through Possum Ridge, a model town typical of Mississippi railroad towns in the 1940s, running daily through Dec. 31. Admission is free.





Ali Chatham, 7, of Hernando peered through the Plexiglass with a giddy look of wonder. "Whooo-oooooo!" she said, supplying the sound effects as the small train looped around, eye-level, at the Mississippi Agriculture and Forestry Museum.

"Look at those tiny people," she marveled to her friend, adding in sing-song, "Tiny, tiny, tiny tiny."

She's right. The people — all 562 of them — stand no taller than thumbnails. Dogs, ducks, chickens are weensy.

A closer look reveals the mother hanging out the wash, the man washing windows, the pig-tailed girl in the swing, and workers loading cotton, produce, lumber and livestock into the miniature boxcars.

Tiny, too — relatively speaking — is this 4-by-8-foot layout.

It's a fraction of what the Jackson Society of Model Engineers had at its former location at Metrocenter mall. And club members estimate it's only 1 percent of what they intend to gradually build at their display's new home.

JSME had to dismantle its three-train, 2,800-square-foot display at Metrocenter when the mall needed to work on that space for leasing, the club didn't want a smaller location and general policies changed.

In its eight years at Metrocenter, it raised $80,000 for the Mississippi Children's Home Society, through door proceeds. Previous displays were at Northpark mall for five years, Deposit Guaranty Bank in the 1980s and before that, the Central Fire Station, with club's roots tracing back to the 1950s, officers say.

When one track closes, another opens.

The train club found a new home and a bigger horizon at the ag museum, which kicks its display and outreach up a considerable notch. Members salvaged as much as they could from the display, and plan to rebuild to reflect the history of agriculture and commerce in Mississippi, and the railroad's importance in that growth.

That makes it a natural fit for the museum. "The railroad era was dramatic, and probably did more for Mississippi than any other transportation, in moving supplies — not only agricultural, but commercial," museum director Charlie Dixon said.

"This was before automobiles, and highways weren't anything but mud, really," club president Dr. Bill Sistrunk said.

Considering the state's topography, "We won't have as many mountains and waterfalls. ..." he said, chuckling. What they will have is a charming engine for education, particularly for children.

This partnership also ushers in opportunities to expand the museum's railroad focus, with artifacts and displays on railroad safety.

About 6,000 to 8,000 people each year saw the holiday train display, November to early January each year, at the mall. At the museum, there's a potential to reach more than 100,000, year-round.

"To me, this is the next generation," club secretary/treasurer Jackie Meck said. "I don't know how many years Charlie can give ..." he turned to the director. "Can I have 50?"

The current HO-scale exhibit in the museum's main building depicts small-town Mississippi circa 1940s-'50s transporting agricultural produce by railroad. It's owned by longtime train club member Marion Elliott, and the entire club worked on it for weeks before it went on display last month. It's just a teaser.

It'll take about a year and a half to rebuild a permanent exhibit, either in the main building or an adjacent space, depending on funding. Keep up with the progress at www.jsme.org.

As Meck can't resist saying, exciting things are coming down the track.
---
Contact Staff Writer Sherry Lucas at (601) 961-7283 or e-mail slucas@clarionledger.com.